64bit and 32bit Assembly OS


Home Page | Documents | Screenshots | Downloads | Forums | Contact

MPlayer v1.15

Coding by V.Turjanmaa and A.Mogyorosi.

Menuet64 media player is coded from scratch using assembly only,
and is not based on other codecs or libraries.



MPlayer v1.15 (64bit, 98KB, 25.9.2015) includes the following components:



TV/Radio player

(DVB-T, mpeg-2 video, layer I,II,III audio)

<!a href=094l.png>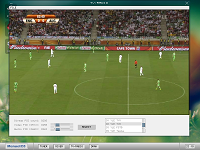 <!/a>
TV/Radio player decodes DVB-T broadcasts with mpeg-2 video and mpeg-1 layer I,II,III audio. Tuner application is included to Menuet64 image. Subtitles are not supported.
MP3 player
(mpeg-1 audio layers I,II,III)
<!a href=sc001.png>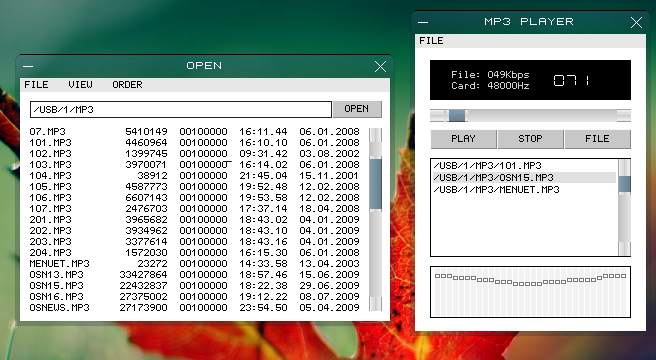 <!/a>
MP3 player decodes mpeg-1, audio layer I,II and III -files. Also variable bitrate (VBR) files are supported and player includes a 32 band equalizer.
Movie file decoder
(mpeg-2 ps,720x576,720x480 & MP3,112k->224kbps)
<!a href=090h.png>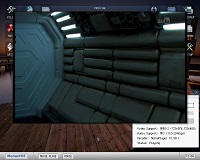 <!/a>
Decoder supports mpeg-files with mpeg-2 video (ps) and mp3 audio. File player is included to Menuet64 image. For movie encoding, you can use a program like TMPGEnc.
DVD movie player
(mpeg-2, pal, pcm-audio)
<!a href=090h.png>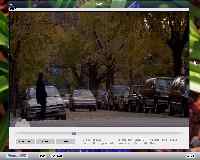 <!/a>

Player decodes non-protected PAL dvd's with mpeg-2 video and PCM audio. Also non-protected NTSC disks work fine in our limited tests. Current version supports PCM-audio, not dolby digital.


MPlayer is sold separately since MPEG patents require a fee for delivered decoders.


If you agree to the license, the player is available at Avangate.

Avangate will send the player download link to your email address. The link is sent usually within 30 minutes.




---